GMC GML-1440 HD LATHE 14 x 40 LATHE - New

New
Machine Tools
by Name Brand are
Listed Below
Select a Link To
Go to the Index Page
of Your Choice



Use The
Next Or Previous
Arrow Button
To Scroll Thru All
GMC
LATHES
B U C K' S P R E C I S I O N M A C H I N E T O O L S
G U N T E R S V I L L E, A L A B A M A 3 5 9 7 6
TEL: 2 5 6 - 5 8 2 - 5 3 5 3 www.buckspmt.com

FOR ADDITIONAL INFORMATION OR TO REQUEST A QUOTE CONTACT:
DAN BUCHANAN
TEL: 256-582-5353
Dealer Of GMC Machine Tools !
DESCRIPTION & FEATURES:
This New 14" Swing GMC GML-1440 HD Lathe is an all geared headstock 14" x 40" metal cutting lathe constructed of high tensile strength cast iron and induction hardened and ground bed ways.
ISO 9001 certified - The GMC GML-1440 HD lathe carries all hardened and precision ground gears & shafts within the headstock and a automatic lubrication system for the headstock and feed box. With 16 spindle speeds from 45 to 1800 RPM's, Footbrake and the more than adequete 2-1/16" spindle bore this GMC GML-1440 HD lathe will certainly make a great addition to any machine shop floor.
Inch, metric, diametral pitch and module threading are all standard on the GMC GML-1440 HD lathe.
More info on standard features and equipment can be found below.
| | |
| --- | --- |
| GMC LATHE | Specifications |
| Model | GML-1440 HD |
| Size | 14" x 40" |
| Swing over bed | 14-1/16" |
| Distance between centers | 40" |
| Maximum cutting length | " |
| Max swing over cross-slide | 8-1/2" |
| Max swing in gap | 21-1/2" |
| Spindle hole dia. | 2-1/16" |
| Spindle | D1-6 Camlok |
| Spindle speeds ( 16 ) | 45 to 1800 |
| Diameter of tailstock quill | 2-1/16" |
| Max. travel of tailstock quill | 5" |
| Taper of tailstock quill center | M.T. # 4 |
| Metric threads | 0.2 - 14 MM, 39 kinds |
| Inch threads | 70 - 2 TPI, 45 kinds |
| Diametral pitch threads | 8 - 40 DP , 21 kinds |
| Module threads | 0.3 - 3.6 MM , 18 kinds |
| Width of bed | 10-1/4" |
| Motor | 6 HP, 220 V, 3 phase |
| Coolant pump motor | 1/8 HP, 220 V, 3 phase |
| Machine Net Weight | 4,350 lbs |
GMC GML-1440 HD LATHE
14" x 40" Lathe With Geared Headstock
The GMC GML-1440 HD Lathe
Accessories Package
Includes
3 and 4-Jaw Chucks, Steady Rest, and More
Details Below

Accessories package included:
8" 3-Jaw Chuck, 10" 4-Jaw Chuck, 12" Face Plate, 5-1/2" Steady Rest, 2" Follow Rest, Coolant System, Removable Gap, Foot Brake, Oil Pump On Apron For All Guide ways and Leadscrews, Halogen Worklight, 4-Way Tool Post, Full Length Splash Guard, ( 2 ) Dead Centers, ( 1 ) Reducing Sleeve, Thread Chasing Dial, Tool Box and Leveling Pads
FREE TAPER ATTACHMENT
Features:
ISO 9001 certified

2-1/16 inch Spindle Bore

Heavy Duty D1-6 Camlock spindle

One-Piece Solid Cast Iron Machine Base

Heavy Duty Guideway Width 10-1/4 Inch

6 HP Heavy Duty Main Motor

16 Spindle Speeds from 45-1,800 rpm ( 45/ 75/ 90/ 130/ 160/ 195/ 210/ 260/ 350/ 390/ 600/ 690 / 790 / 910/ 1,200/ 1,800 rpm

)

45 Kinds of Inch Threads, and 39 Kinds of Metric Threads

Threading and Feeding Rate Change Without Changing Gears

Spindle is Balanced, Hardened and Precision Ground

Spindle Is Supported at 3-Point by High Precision Bearings

All Gears and Shafts are Hardened and Precision Ground

Guideways Induction Hardened and Precision Ground

Automatic Lubrication System in Headstock and Feed Box

One year warranty for parts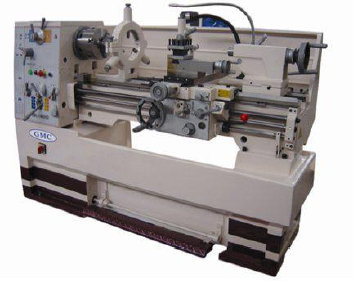 Copyright | B U C K S P R E C I S I O N M A C H I N E T O O L S | A l l R i g h t s R e s e rv e d
Website prices and/or specifications on this site are intended solely as a guide and are not binding . Call to verify or to request the latest price or specfication update. We are not responsible for clerical errors . Incoming freight charges are the responsibility of the purchasor unless otherwise stated and agreed to in writing