New
Machine Tools
by Name Brand are
Listed Below
Select a Link To
Go to the Index Page
of Your Choice



Use The
Next Or Previous
Arrow Button
To Scroll Thru All
GMC
LATHES
B U C K' S P R E C I S I O N M A C H I N E T O O L S
G U N T E R S V I L L E, A L A B A M A 3 5 9 7 6
TEL: 2 5 6 - 5 8 2 - 5 3 5 3 www.buckspmt.com

| | |
| --- | --- |
| GMC LATHE | Specifications |
| Model | GML-2560 , GML-2580 |
| Size | 25" x 60" , 25" x 80" |
| Swing over bed | 25" |
| Distance between centers | 60" and 80" |
| Max swing over cross-slide | 14" |
| Max swing in gap | 29" |
| Width of bed | 13" |
| Effective length in gap to spindle | 8" |
| Effective length in gap to chuck jaws | 6" |
| Spindle hole dia. | 3-1/8" |
| Spindle | D1-8 Camlok |
| Taper of spindle center | MT # 6 |
| Spindle speeds ( 15 ) | 26 - 1800 RPM |
| Longitudinal feeds | 0.0027 - 0.15 IPR, 66 kinds |
| Cross feeds | 0.0013 - 0.075 IPR, 66 kinds |
| Threads | Details |
| Inch threads | 1 - 56 TPI 66 kinds |
| Metric threads | 0.5 - 28 mm , 66 kinds |
| Diamentral pitch threads | 56 - 8 DP , 33 kinds |
| Module threads | 0.5 - 3.5 MM , 33 kinds |
| Carriage | Details |
| Maximum travel of top slide | 5" |
| Maximum travel of cross-slide | 13" |
| Longitudinal rapid traverse | 18 ft / Min |
| Tailstock | Details |
| Diameter of tailstock quill | 2-1/2" |
| Maximum travel of tailstock quill | 5" |
| Taper of tailstock quill center | M.T. # 5 |
| Motors | Details |
| Main motor ( Pre-wired 220 V / 3 ) | 15 HP, 220/440 V, 3 phase |
| Rapid traverse motor | 1/3 HP, 220/440 V, 3 phase |
| Coolant pump motor Pre-wired 220 V / 3 ) | 1/8 HP, 220/440 V, 3 phase |
| Machine net weight | Details |
| GML-2560 | 6,550 lbs |
| GML-2580 | 7,650 lbs |
| Overall dimensions | Details |
| GML-2560 L x W x H | 115" x 46" x 71" |
| GML-2580 L x W x H | 137" x 46" x 71" |
GML-2560 and GML-2580 Lathes
25 x 60 Lathe and 25 x 80 Lathe

Accessories Package
Includes
3 and 4-Jaw Chucks,
Steady Rest,
Follow Rest and More
Details Below
15 HP
220 or 440 Volt
Three Phase
Pre-Wire
Available
GMC Model GML-2560 and GML-2580 Lathes , New
DESCRIPTION & FEATURES:
These New 25" Swing GMC GML-2560 and GML-2580 metal cutting Lathes carry a 25" swing over the cross-slide and each is powered by a 15 HP main motor. Both are constructed of high tensile strength cast iron and are incorporated with induction hardened and ground bed ways. Each of the lathes is equipped with rapid traverse . These ISO 9001 certified lathes carry all hardened and precision ground gears & shafts within the headstock and a automatic lubrication system for the headstock and feed box. 15 Spindle Speeds range from 26 to 1800 rpm . The footbrake and a more than adequete 3-1/8" spindle bore make either of these lathes a great choice for any machine shop floor.
Inch, metric, diametral pitch and module threading are standard on each lathe.
More info on standard features and equipment can be found below.
Standard Equipment for "GMC" Heavy Duty Lathes
Model # GML-2560, GML-2580
· Free OEM DRO for GML-2560 & GML-2580, installed
· Free Taper Turning Attachment, , installed
· Rapid Traverse on Carriage Longitudinal & Cross
· 12" 3-jaw chuck with top reversible jaws
· 12" 4-jaw chuck with top reversible jaws
· 27" Face plate
· 4-1/4" steady rest
· 1"-3" follow rest
· Automatic kick-out longitudinal carriage stop system
· Removable gap
· 4-way tools post
· Foot brake
· Halogen Work light
· coolant system
· Full length splash guard
· (2) dead centers and (1) reducing sleeve
· Thread chasing dial
· Tool box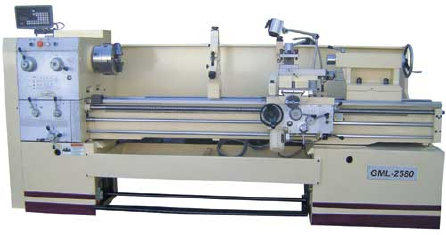 Copyright | B U C K S P R E C I S I O N M A C H I N E T O O L S | A l l R i g h t s R e s e rv e d
Website prices and/or specifications on this site are intended solely as a guide and are not binding . Call to verify or to request the latest price or specfication update. We are not responsible for clerical errors . Incoming freight charges are the responsibility of the purchasor unless otherwise stated and agreed to in writing